Watch Cars 3
---
"It's not over until lightning strikes."
In this second sequel to the Pixar hit film Cars, the race car Lightning McQueen is faced with the reality that his aging chassis is having a hard time keeping up with the speedy new racers on the scene. With the help of friends both old and new, he must find a way to prove that he can still compete. The film features the voices of Owen Wilson, Larry the Cable Guy, Bonnie Hunt and Cheech Marin.
|
2017
|
1 hr 59 min
|

/

10
Cast

Studio

Director

Brian Fee

Language

English
Cars 3 News
Will This Be the Worst Labor Day Ever for Hollywood?
August 31, 2017 @ 7:56 am PST
|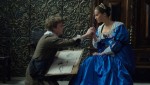 No new releases and no exciting hold-overs probably means that virtually no one will go to the movies this holiday weekend.
Read More

'Transformers' Preparing for a Lackluster Weekend
June 22, 2017 @ 7:24 am PST
|
Read More

'Transformers' Continues to Disappoint on Thursday
June 23, 2017 @ 2:00 pm PST
|
Read More

'Cars 3' Is the Week's Top Movie
June 18, 2017 @ 8:49 am PST
|
Read More

Watch Cars 3 Trailer

Disney*Pixar's 'Cars 3' Official Trailer (2017)|2:33

Watch Cars 3 Online - Watch online anytime anywhere: Stream, Buy, Rent
Cars 3 is currently available to watch and stream, buy, rent on demand at Google Play, iTunes online.