Watch Casino
---
"No one stays at the top forever."
"Casino" is a critically acclaimed drama. Sam "Ace" Rothstein, an associate of the mafia, goes to Las Vegas to run the Tangiers Casino. The Tangiers has had some bad management, and the mob wants Sam to turn it around. Sam takes advantage of the lack of gaming laws, and he becomes the boss of the casino and makes it immensely successful. Of course, the profit is leaked back to the mob bosses. Sam's friend, Nicky Santoro, is sent out to act as Sam's right hand man. Nicky hires a crew to do the dirty work associated with running the casino.
Sam meets and falls in love with Ginger Mckenna. They get married and have a child. Running the casino proves a hazard to Sam's relationships with Ginger and Nicky. His marriage starts to develop several cracks, and Nicky becomes a huge liability. He has a huge temper, and his behavior results in him being banned from the city. Nicky separates from Sam and begins to employ his own crew and attempts to set up shop for himself.
Ginger also loses her cool. She is caught by Sam giving money to her ex-boyfriend who is a con man. She leaves Sam and takes her daughter to run away with her ex. Distraught when that doesn't work out, she returns to Sam, but he has little patience for her addictions. Ginger attempts to steal some of the savings from Sam and is arrested.
With Ginger's arrest, the federal police have access to some of the casino records. The police uncover the mob's involvement with the Tangiers, and the empire begins to crumble. There is an attempt on Sam's life, and he suspects that Nicky is responsible.
Sam narrates the final moments of the film to explain how things got to be the way that they were and how for a very short time he was the king of Las Vegas.
|
1995
|
2 hr 58 min
|

/

10
Cast

Studio

Director

Martin Scorsese

Language

English
Casino News
Robert De Niro from Little Fockers to head up jury at Cannes
January 06, 2011 @ 2:36 pm PST
|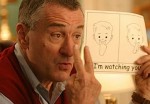 Hit comedy movie, Little Fockers, has been a big hit since its release, and one of its stars has now been named as the president of the jury at this year's Cannes Film Festive.
Robert De Niro will head the jury for the third time after being named as the president of the jury for the festival, which is set to take place in May.
As an actor, director, and producer, as well as a global superstar and Hollywood veteran, De Niro is the perfect choice for heading up the Cannes jury.
Read More


Watch Casino Trailer

Casino Official Trailer #1 - (1995) HD
|
3:03

Watch Casino Online - Watch online anytime anywhere: Stream, Download, Buy, Rent
Casino is currently available to watch and stream, download, buy, rent on demand at Netflix, Amazon, Vudu, Google Play, FandangoNow, iTunes, YouTube VOD online.