Watch Heat
---
"A Los Angeles Crime Saga"
Heat is a crime drama film that came out in the year 1995. The movie is about a Los Angeles detective who is looking to track down and eliminate a group of bank robbers. This movie also explores the personal lives of the detectives on the case as well as the robbers themselves. Heat was among the better films of the year and is one that had two of the best film performers ever in Al Pacino and Robert DeNiro.
A man named Neil suits up as a paramedic and leads his group of robbers to steal bonds. They recruit a man named Weingro to help them. The robbery goes well as they get the bonds but Weingro commits a murder which forces the robbers to kill all of the security guards to avoid any witnesses. Neil is upset with Weingro and that night at a diner he is beaten up. However he escapes once a police car pulls up. Meanwhile a Los Angeles detective named Vince Hannah investigates the murders and figures out that they had an easy escape due to the number of freeways nearby. Later on the group of bank robbers decide to rob a bank as one last heist before they retire. The robbery goes smoothly until Hannah and the detectives find the location. Once they arrive a big shootout ensues and many casualties occur including one of the detectives and two of the robbers. However Neil and his sidekick escape to avoid an arrest. With a large sum of money on hand, Neil and his sidekick plan to leave the country to avoid capture. Right before Neil is about to leave he has one last confrontation where he looks for Weingro. He finds him at a hotel room and murders Weingro with two gunshots. At the hotel Hannah finds Neil and a final standoff ensues. Hannah chases Neil through the airport and then shoots Neil as he is about to open fire on him. Neil sustains a few gunshots to his torso and then later dies.
|
1995
|
2 hr 51 min
|

/

10
Cast

Studio

Director

Michael Mann

Language

English
Heat News
Robert De Niro from Little Fockers has died fifteen times
December 31, 2010 @ 6:57 am PST
|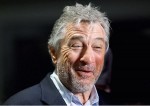 Most movie fans will remember at least a few movies with Robert De Niro where the actor's character has passed away at some point during the movie. However, a recent poll has revealed that the actor may have died on screen more times than many people realise, although hardened De Niro fans will probably be on the money when it comes to naming how many times he has died in his movies.
A survey into the number of on screen deaths amongst Hollywood actors was recently carried out by Cha Cha, and Robert De Niro, who is used to topping various polls and winning awards, received the
Read More


Watch Heat Trailer

Heat: Director's Definitive Edition
|
2:14
Original Theatrical Trailer
|
2:16

Watch Heat Online - Watch online anytime anywhere: Stream, Download, Buy, Rent
Heat is currently available to watch and stream, download, buy, rent on demand at Netflix, Amazon, Vudu, FandangoNow, iTunes, YouTube VOD online.