Watch Hotel Transylvania
---
"Even monsters need a vacation"
Viewers of all ages can be delighted in the spooky Halloween themed movie called Hotel Transylvania. This movie brings a comedic twist to all of your favorite and well-known monsters. This movie is filmed in computer animated format and it is rated PG, for mild scary scenes and some things in the movie are not suitable for all children. This movie is based on many popular monster stories and it was directed by Genndy Tartakovousky and the film was produced by Michelle Murdocca. This film's screenplay was done by the talented duo of Robert Smigel and Peter Baynham. In addition because this film is animated, a talented team of artists had to be involved and they were supervised by the art directors: Ron Lukas and Noelle Triaureau. But, Hotel Transylvania would not be complete without the vocal talents of many well-known public figures such as Adam Sandler, Selena Gomez, Andy Samberg, Kevin James, Cee Lo Green, David Spade, Jon Lovitz, Molly Shannon, Steve Buscemi and Fran Dreschen.
The movie's plot is about a caring father and hotel owner called Dracula. The name is not a coincidence; he really is the legendary and well-known monster Dracula. Dracula is the owner of a luxury five star hotel that serves as a retreat for many famous monsters trying to escape the humans. Dracula is the proud father of a 118 year old teenage daughter called Mavis. Mavis is a free spirited girl who is turning 118 years of age in the film and, as a result, her father decides to throw Mavis a birthday bash in the hotel. Dracula invites many of the most well-known monsters to the party including: A sweet version of Frankenstein, an obese food loving mummy, a family of werewolves and many other monsters.
All is going well with the celebration, until a clumsy and charming 21 year old called Jonathan guy enters the hotel
|
2012
|
1 hr 31 min
|

/

10
Cast

Studio

Director

Genndy Tartakovsky

Language

English
SUBSCRIPTION
RENT / BUY
CABLE
Hotel Transylvania News
Can Dracula Beat Dwayne Johnson at the Box Office?
July 13, 2018 @ 6:19 am PST
|
Read More

Kids Choice Awards: Check Out the Winners!
March 24, 2013 @ 7:32 pm PST
|
Saturday hosted the Kids Choice Awards. Kristen Stewart was one of the top winners, but you can check out the full list here!
Read More

'Insidious 2' Rules the Week at Box Office
September 16, 2013 @ 2:08 pm PST
|
The second weekend in September is supposed to be a time for movie-goers to stay home, but apparently no one told that to "Insidious: Chapter 2." The low-budget horror sequel was a terror at the box office last weekend, taking in enough money to be considered a success in any month, not just September.
Read More

Kid's Choice Awards Nominees Are Announced!
February 13, 2013 @ 2:21 pm PST
|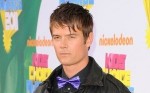 The nominees are in for the Kid's Choice Awards, set to air March 23rd. Josh Duhamel of "Save Haven" will be hosting. Check out who made the cut for television, film, music, sports, and more!
Read More


Watch Hotel Transylvania Trailer

HOTEL TRANSYLVANIA (3D) - Official Trailer - In Theaters 9/28|2:34

Watch Hotel Transylvania Online - Watch online anytime anywhere: Stream, Download, Buy, Rent
Hotel Transylvania is currently available to watch and stream, download, buy, rent on demand at DIRECTV NOW, FlixFling VOD, Amazon, Vudu, Google Play, FandangoNow, YouTube VOD, iTunes online.