Watch Lord of War
---
"Where there's a will, there's a weapon"
Lord of War is one of Nicholas Cage's most engaging roles. He's an International gun runner who has found his fortune selling stockpiles of weapons to third world nations after the fall of the Soviet Union. Nations that are at war will buy from anyone that has the weapons they need, and Cage has the weapons everyone is looking for. He is unscrupulous, and only cares about the money, not who gets the weapons. After the collapse of the Soviet Union there are an abundance of these weapons to anyone that knows their way around, and Yuri Onlov, Cage's character, knows his way around quite well. He buys the weapons for a great price, or steals them, and sells them to the highest bidder. He is being hunted by Jack Valentine, an Interpol agent, played quite well by Ethan Hawke.
Cage does not think that anyone will ever catch him as he travels around the world making deals, and selling death as this intriguing tale weaves its way through the poorest countries in the world. He supplies any army in the world that needs a weapon. He gains the nick name, The Lord Of War.
Cage is funny, engaging, and very good in this role. He has a beautiful wife who is unaware of what he does for a living, and just goes along for the ride. The plight of the third world countries involved in gun running and buying is very believable and the host of supporting actors makes this a must go see movie.
This is a movie made from the real live events of the real Yuri Onlov. Lord of War is action packed and funny, full of stories of real situations around the world,a good movie for everyone. Nicholas Cage, Bridget Moynahan, Ian Holm, and Ethan Hawke make for a cast to be remembered in this action packed movie.
|
2005
|
2 hr 3 min
|

/

10
Cast

Studio

Director

Andrew Niccol

Language

English
SUBSCRIPTION
RENT / BUY
CABLE
Lord of War News
Watch the Trailer for Justin Timberlake's New Thriller 'In Time'
August 08, 2011 @ 1:25 pm PST
|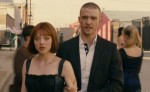 Looks like Justin Timberlake's bringing sexy back...to the future. Timberlake stars alongside Olivia Wilde and Amanda Seyfried in the futuristic new thriller "In Time." The studio released some footage from the stylish new film at ComicCon, and has just released an official promo for the film today. See it here.
Read More


Watch Lord of War Trailer

Lord of War (2005) Official Trailer #1 - Nicolas Cage Movie
|
2:36

Watch Lord of War Online - Watch online anytime anywhere: Stream, Download, Buy, Rent
Lord of War is currently available to watch and stream, download, buy, rent on demand at Showtime, Amazon Prime, DIRECTV NOW, Amazon, Vudu, FandangoNow, iTunes, YouTube VOD online.