Watch Ocean's Eleven
---
"Are you in or out?"
Oceans 11 (2001) is a comedy about what happens when a gang of master thieves get together to rob Vegas. The movie features an all-star cast, including George Clooney, Brad Pitt, and Julia Roberts. Danny Ocean(Clooney), a thief just released from prison, is ready to go back to work. With his partner, Rusty,(Pitt) they assemble a band of professional criminals to take down three Las Vegas Casinos.
What the others don't know is that Ocean has a hidden agenda. His ex-wife, (Roberts) is now involved with a dangerous Casino owner, whose hotel they are planning to rob. The gang must not only carry out the robbery, but figure out a way to escape the revenge of the vicious Casino boss.
The gang comes up with an amazingly complex plan, involving infiltrating the Casino staff and using high tech devices to penetrate the complex casino security. Each member of the gang is a criminal specialist with their specific roles to play in the robbery. Ocean must lead the gang in the plan while striving to regain the love of his former wife, while the story proceeds through one twist after another resulting in the surprise conclusion.
|
2001
|
1 hr 56 min
|

/

10
Cast

Studio

Director

Steven Soderbergh

Language

English
Ocean's Eleven News
George Clooney Cured of Malaria, Enthusiastic about 'The Ides of March'
January 21, 2011 @ 7:29 am PST
|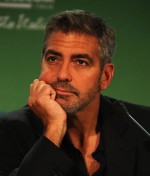 Academy Award-winning actor George Clooney is doing well after suffering from Malaria during his trip to war-torn Sudan, where the actor is helping to draw attention to the country's historic referendum on independence for residents. .
In a statement the actors' spokesman said, ""George is completely over the malaria he contracted while in the Sudan during the first week in January.
Read More


Watch Ocean's Eleven Trailer

Ocean's 11 Trailer HD
|
1:38

Watch Ocean's Eleven Online - Watch online anytime anywhere: Stream, Buy, Rent
Ocean's Eleven is currently available to watch and stream, buy, rent on demand at Amazon, Vudu, Google Play, FandangoNow, YouTube VOD, iTunes online.