Watch Pulp Fiction
---
"Just because you are a character doesn't mean you have character."
The 1994 film "Pulp Fiction" has received many awards. It won the prestigious Palm d'Or at the Cannes film festival, before winning a best screenplay Oscar for the writing of Quentin Tarrantino and Roger Avery. It was also nominated for a further five Oscars. It is listed by the American Film Institute as one of the top 100 films ever made in the United States.
The film is 168 minutes long and is rated R. It contains scenes of graphic violence, strong language, and drug use.
The film interweaves four stories in a non-linear narrative. The primary story is about two hit men (Vincent Vega and Jules Winnfield) played by John Travolta and Samuel Jackson. The Vincent Vega character is later introduced into another story line involving a Gangster's wife, Mia Wallace, played by Uma Thurman. The Gangster, Marcellus Wallace, is played by Ving Rhames. Another story line primarily involves a boxer with a conscious, Butch Coolidge, played by Bruce Willis. The shortest storyline involves a pair of dinner bandits which opens the film. The characters are Pumpkin and Honey Bunny, played by Tim Roth and Amanda Plummer. Rounding out the cast are Christopher Walken, Harvey Keitel, Rosanna Arquette, and Director Quentin Tarrantino as Jimmie Dimmick.
"Pulp Fiction" takes place in the 90's but has a decidedly older 50's style feel to it. The wardrobes and vehicles are often from that era. There is a dance scene that also echoes the past.
"Pulp Fiction" is considered a crime thriller. Although there are moments of action and intensity, it is known in large parts for its dialogue. A large amount of the film is spent with characters talking philosophically about their predicaments and the past. There are discussions about different cultures. As the title suggests, in many ways it is an homage not just to old films, but to dime store paperbacks that used to be popular in the 1950s.
Music plays an important role in the film. Most of the songs are from decades past. Predominantly featured are "Son of a Preacher Man" by Dusty Springfield, "You Never Can Tell" by Chuck Berry and "Girl, You'll be a Woman Soon" by Neil Diamond and performed by Urge Overkill.
|
1994
|
2 hr 34 min
|

/

10
Cast

Studio

Director

Quentin Tarantino

Language

English
Pulp Fiction News
Did John Travolta Just Make the Worst Movie Ever?
June 18, 2018 @ 6:42 am PST
|
Read More

Quentin Tarantino Kept Quiet About Harvey Weinstein
October 20, 2017 @ 7:04 am PST
|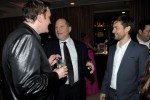 The filmmaker acknowledges he knew about the producer's sexually predatory behavior but considered it to be no big deal.
Read More

Quentin Tarantino Says 13-Year-Old Was 'Down With' Having Sex with Roman Polanski
February 07, 2018 @ 6:56 am PST
|
Read More

Police Union Threatens Quentin Tarantino
November 06, 2015 @ 7:22 am PST
|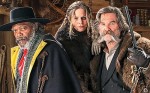 The Fraternal Order of Police has threatened to economically damage Quentin Tarantino's The Hateful Eight, a movie you might not have heard of without the benefit of a publicized controversy.
Read More


Watch Pulp Fiction Trailer

Pulp Fiction Official Trailer #1 - (1994) HD|3:06

Watch Pulp Fiction Online - Watch online anytime anywhere: Stream, Download, Buy, Rent
Pulp Fiction is currently available to watch and stream, download, buy, rent on demand at DIRECTV NOW, FlixFling VOD, Amazon, Vudu, FandangoNow, YouTube VOD, iTunes online.