Watch Safe Haven
---
"You know it when you find it"
Safe Haven is a romantic drama starring Julianne Hough and Josh Duhamel. The film, which is based on a novel of the same name by Nicholas Sparks, was produced by Nicolas Sparks Production company and is set in a small, close-knit, seaside town, Southport, in North Carolina. In the film, Katie (Julianne Hough) mysteriously shows up in the small town. Being that everyone in the town is so close, the new woman in town doesn't go unnoticed. Amongst whispers and uncomfortable glances, Katie takes up shelter in Southport, and intends to keep to herself.
Although Katie does not want to make friends, she begins a friendship with her equally mysterious neighbor, Jo (Cobie Smulders). Jo recognizes that Katie has some tremendous emotional issues and encourages her to loosen up a bit. After getting a job in town, Katie meets local a store owner, Alex (Josh Duhamel).
Alex is a young widow with two small children, Lexi (Mimi Kirkland) and Josh (Noah Lomax). Almost immediately upon meeting, there is instant chemistry between Alex and Katie. However, Katie is unwilling to let her guard down, and ignores Alex's romantic advances.
When Jo learns of Alex's interest in Katie, she encourages Katie to take a leap of faith. Slowly, Katie and Alex begin to date and develop strong feelings for each other. Unfortunately, not long after Katie and Alex commit to each other, the past that drove Katie to Southport begins to catch up with her.
With her past about to be exposed, Katie must decide whether to run like she did before, which means leaving Alex, his kids and Jo, or face her past head on. However, before Katie decides what to do, she must be totally convinced of Alex's intentions towards her.
|
2013
|
1 hr 55 min
|

/

10
Cast

Studio

Director

Lasse Hallstrom

Language

English
Safe Haven News
Julianne Hough Has a Topless Instagram Birthday
July 21, 2017 @ 6:26 am PST
|
Read More

Weekend Box Office - 'Identity Thief' Steals Top Again.
February 28, 2013 @ 8:15 pm PST
|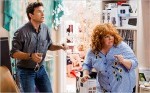 Weekend Box Office report: 'Identity Thief' steals the top spot once again. See what else landed in the top 5.
Read More

What Broke Up Ryan Seacrest and Julianne Hough?
March 16, 2013 @ 12:32 pm PST
|
America's sweethearts Ryan Seacrest and Julianne Hough have called an end to their relationship after two years together. What led to the break-up?
Read More

Maksim Chmerkovskiy Leaves 'Dancing With The Stars'
February 24, 2013 @ 3:32 pm PST
|
The popular dance show is reportedly one man down, with Chmerkovskiy leaving before the premiere of the sixteenth season to pursue other career options.
Read More


Watch Safe Haven Trailer

Safe Haven Official Trailer|2:26

Watch Safe Haven Online - Watch online anytime anywhere: Stream, Buy, Rent
Safe Haven is currently available to watch and stream, buy, rent on demand at Amazon, Vudu, Google Play, YouTube VOD, iTunes online.