Watch Suicide Squad
---
"Worst Heroes Ever"
In this DC Comics movie, a team of super villains is assembled by a shadowy governmental agency. The plan is to force the villains to carry out dangerous or controversial missions that can't be carried out by super heroes. The film stars Will Smith and Margot Robbie.
|
2016
|
2 hr 3 min
|

/

10
Cast

Studio

Director

David Ayer

Language

English
Suicide Squad News
'Justice League' Has a Decent Opening Night
November 17, 2017 @ 12:08 pm PST
|
Read More

#Sexico - Cara Delevingne Has a Topless Mexican Birthday
August 11, 2017 @ 11:13 am PST
|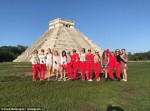 Model-actress Cara Delevingne hops on the top-off bandwagon on social media to celebrate her birthday.
Read More

Hollywood Copes with Disappointing Summer Box Office
August 15, 2017 @ 2:26 pm PST
|
Read More

'Wonder Woman' Brings in $400 Million in U.S.
August 08, 2017 @ 9:34 am PST
|
Read More


Watch Suicide Squad Trailer


Watch Suicide Squad Online - Watch online anytime anywhere: Stream, Buy, Rent
Suicide Squad is currently available to watch and stream, buy, rent on demand at Amazon, Vudu, Google Play, FandangoNow, iTunes, YouTube VOD online.