Watch The Lucky One
---
The Lucky One is a romantic movie that was based off of a book by the famous author, Nicholas Sparks. The film centers on Logan, a soldier who is serving a tour of duty in Iraq. During an ambush, Logan is lucky to escape with his life, while many of his friends are badly injured. Just after the ambush, Logan finds a picture of a young woman on the ground. He attempts to find the owner of the picture, but has no luck, so he decides to carry it with him. After he miraculously escapes unscathed from several other situations in which others are badly injured or killed, Logan decides that the woman in the picture must be his guardian angel, even if she has no idea about him.
Eventually, Logan finishes his tour and goes back home to Colorado, where his sister lives. He is very happy to be reunited with his family, and is thrilled to see his dog again. However, Logan finds that he does not really fit into his life anymore. Finally, he decides to take his dog and, leaving a note of explanation for his sister, leaves his family's home. Logan does not really have too much of a destination in mind. He turns to the picture of the woman he thinks of as his guardian angel. In the background of the photograph is a landmark that seems to resemble a landmark in Louisiana. With no better destination in mind, Logan and his dog begin the long walk from Colorado to Louisiana.
Logan and his dog eventually arrive in the area of the Louisiana where the landmark is. It does not take long for Logan to find out that the woman, whose name turns out to be Beth, is a local who works at a dog kennel. Logan goes to the kennel but when he meets Beth, he finds that he can't tell her why he is in Louisiana. Luckily, Beth's grandmother steps in an offers Logan a job at the kennel, which he takes.
As the film progresses, Logan grows closer to Beth and her son, Ben. Logan discovers that it was Beth's brother who was killed in Iraq. He wants to tell her everything he knows, but is too afraid of her reaction. In addition, Logan meets Beth's ex-husband, Keith. Keith is a violent man who constantly intimidates his son and ex-wife. Although they are no longer together, Keith tries to push Logan away from Beth. Logan must fight through the animosity, and earn Beth's trust, if he wants to have a future relationship with her.
|
2012
|
1 hr 41 min
|

/

10
Cast

Studio

Director

Scott Hicks

Language

English
The Lucky One News
Weekend Box Office: 'Avengers' Breaks Another Record, Hits $1 Billion
May 13, 2012 @ 11:04 am PST
|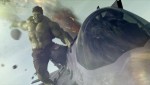 "Dark Shadows" didn't stand a chance against "The Avengers," which has already hit $1 billion worldwide. See what other records the movie broke, and how "Dark Shadows" fared, right here.
Read More

Weekend Box Office: 'Think Like a Man' Thinking Big, 'Avengers' Rules Overseas
April 29, 2012 @ 2:36 pm PST
|
A number of new openers fizzled this weekend as "Think Like a Man" still reigns. Overseas, meanwhile, "The Avengers" is providing a preview of what this weekend will be like at theaters: very crowded.
Read More

Weekend Box Office: 'Avengers' Has the Biggest Opening of All Time
May 06, 2012 @ 1:22 pm PST
|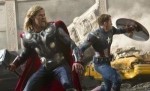 Speculation had "The Avengers" in line to potentially match or pass "The Hunger Games" in terms of opening weekend sales, and it did... and then some. Just how absurdly huge was the movie's opening weekend? Get the numbers here.
Read More

Weekend Box Office: 'Think Like a Man' Topples 'Hunger Games'
April 22, 2012 @ 8:54 pm PST
|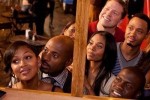 The reigning champion, "The Hunger Games," has finally been beaten. "Think Like a Man" and "The Lucky One" both ended up ahead of "Hunger Games" at the box office this weekend, as both movies overperformed. Get the numbers here.
Read More


Watch The Lucky One Trailer


Watch The Lucky One Online - Watch online anytime anywhere: Stream, Buy, Rent
The Lucky One is currently available to watch and stream, buy, rent on demand at Google Play, iTunes online.