Watch The Notebook
---
"Behind every great love is a great story."
This movie is based off the book written by Nicholas Sparks. The movie starts out with this young couple who meet while the wealthy girl is on vacation at their summer home. She finds a guy there that is just one of the middle class locals. She falls for him and spends every waking moment with him during the summer. He meets her family and you learn right away that mommy and daddy don't like him. They don't find him suitable at all. She ends up having a fight with her family and he walks away saying that he doesn't want to cause them any trouble. She returns home.
World War II breaks out and he is drafted with his best friend who passes away. While the couple were together, they had said that their dream home would be this house. His father helps him by giving him the money he needs to buy the home. She in the meantime meets a guy who her family does approve of and is about to get married. During her fitting though, she reads in the paper that he had finished the dream home. She goes to meet him.
The two of them go to have a great time and rekindle their love. Her mother comes for her, but she refuses to go when she learns that when she thought he never reached out to her, he had written her every day. During this time, he was in a relationship, but the woman can't compete with this past fling. The soon to be husband of the woman's comes too, but she tells him that she can't get married.
Throughout the movie, they go between this plot and an older couple in a nursing home. The guy has moved in so he can be near his wife who is suffering from Alzheimers. He reads this story to her. Sometimes she remembers, other times she doesn't. When she is taken into isolation after having a panic attack when she lost her memory yet again, he sneaks in to be with her and they are then bound to be together forever.
|
2004
|
2 hr 3 min
|

/

10
Cast

Studio

Director

Nick Cassavetes

Language

English
The Notebook News
Here's Ryan Gosling, Age 11, Dancing in Hammer Pants
March 11, 2015 @ 4:04 pm PST
|
Read More

Is Ryan Gosling About to Become a Daddy?
July 09, 2014 @ 9:12 am PST
|
Read More

Legendary Actor James Garner Passes Away
July 20, 2014 @ 8:46 am PST
|
Read More

Ryan Gosling and Rachel McAdams Kinda Hated Each Other While Filming 'The Notebook'
July 02, 2014 @ 11:02 am PST
|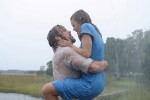 "The Notebook" has become a synonym for the romantic movie, the chick flick to end all chick flicks. It was also the movie that truly launched Ryan Gosling and Rachel McAdams into stardom...and into an off-screen relationship, too. But here's something you probably didn't know: Gosling wanted McAdams booted off the set! In an interview with VH1 to celebrate the movie's 10-year anniversary(!), director Nick Cassavetes revealed some long-held secrets about the making of the film.
Read More


Watch The Notebook Trailer

The Best of Me: Tears of Joy Edition|1:18
The Notebook Movie Trailer [HD]|2:13

Watch The Notebook Online - Watch online anytime anywhere: Stream, Buy, Rent
The Notebook is currently available to watch and stream, buy, rent on demand at Amazon, Vudu, Google Play, FandangoNow, YouTube VOD, iTunes online.