Watch The Vow
---
This movie is a real tear jerker. You will need your tissues for this one indeed. This movie starts with a happy married couple who love one another. They are involved in a fatal car accident. When the wife wakes up, she can no longer remember. Her memory is completely gone. The husband wonders what he is to do. When the woman is released and not remembering that she is married, she goes home with him. Life is different than what she can remember. She goes home to her husband after he fights the family saying that it would be better off she go home with home. There are obstacles as she learns about what married life was like with this guy who is almost like a stranger to her.
Her family has since quit talking to her. She starts wanting answers to things and her husband is bound to do whatever he can to help her. He takes her to her family. He goes with and catches her when she learns as to why her family and her can no longer talk. However, as she learns that she was once engaged, she is reunited with her old fiance. She finds that she is intrigued by him. She leaves her husband to see how things go with the fiance she had before him. She finds that it's extremely interesting.
However, secrets come to light which explain why she quit talking to her family. She is hurt all over again and when this happens, it's her husband that she goes back to. They start to date again. He holds off for her because he is more than certain that she will remember who he is. Though you don't see any progress that she will ever remember, you learn that she falls in love for him all over again. They go back out.
Women will swoon over these movies as this is what every woman wishes and hopes would happen if something like this happened to her. It's good to see a movie that leaves you wondering what is going to happen as it doesn't follow Hollywood's typical plot as many are used to seeing. The name of the movie says it all. It is the vow he took to love, honor, and cherish his wife through sickness and in health. Any person watching this movie will leave with happy tears in their eyes.
|
2012
|
1 hr 44 min
|

/

10
Cast

Studio

Director

Michael Sucsy

Language

English
The Vow News
'Three's Company' Movie to Join the TV Revival Party
April 20, 2016 @ 3:33 pm PST
|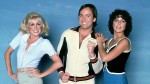 Forty years ago, the bawdy innuendo of 'Three's Company' was the stuff of guilty TV pleasures. Will it still be able to make audiences laugh in the 21st century?
Read More

Channing Tatum Considers Evel Knievel and 'Magic Mike 2'
July 11, 2012 @ 10:32 am PST
|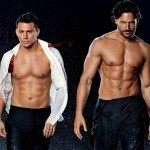 Will "Magic Mike" star Channing Tatum be ditching the thong and donning a motorcycle helmet? It looks like he might, as Tatum is in talks to play famous daredevil Evel Knievel in an upcoming biopic. Find out more here.
Read More

Rachel McAdams and Michael Sheen Call it Quits!
February 27, 2013 @ 5:50 pm PST
|
Read More

Weekend Box Office: Mission Successful with 'Act of Valor'
February 26, 2012 @ 2:03 pm PST
|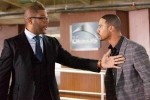 In the war at the box office this weekend, a group of Navy SEALs soared while two other entries completely bombed. Who was successful, and who crashed and burned? Click through to get a full box office report.
Read More


Watch The Vow Trailer

THE VOW - Official Trailer - In Theaters Valentine's Day 2012|2:34

Watch The Vow Online - Watch online anytime anywhere: Stream, Buy, Rent
The Vow is currently available to watch and stream, buy, rent on demand at FlixFling VOD, Amazon, Vudu, Google Play, FandangoNow, iTunes, YouTube VOD online.