Johnny Depp Engaged to Amber Heard - How Does His Ex Feel?
by Shannon Keirnan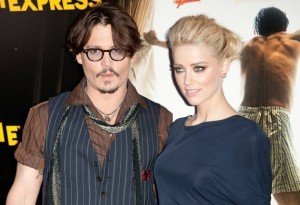 With 27-year-old actress Amber Heard spotted toting a diamond ring on a particular finger after a short relationship with 50-year-old "Fear and Loathing in Las Vegas" actor Johnny Depp, eyes turned to Depp's ex, actress and model Vanessa Paradis.
Paradis and Depp dated for 14 years, but never tied the knot before they broke up in June of 2012. Despite that, sources close to Paradis say that she's only full of excitement for her ex.
"She's not bitter," a friend told US Weekly. "She's happy... Vanessa wished him happiness." Reportedly, there is "no drama" between the 41-year-old and Depp, with whom she shares two children (Lily-Rose and Jack).
Of course, it might help soften the blow that Paradis isn't just sitting around wiping tears... she's in a relationship with 41-year old French singer Benjamin Biolay.
"You'll always know each other, and you're alway gonna be in each other's lives because of those kids," Depp has said of their surprisingly good-natured split. "You might as well make the best of it."
His engagement has only been confirmed by a source close to the couple, but it's no surprise that the fanfare has been limited since the two have been deeply secretive of their relationship since meeting on the set of "The Rum Diary."
The source says of Heard and Depp's upcoming nuptials, "Of course they couldn't be happier to be engaged... They're excited to share the rest of their lives together."
Well, Vanessa Paradis might not be weeping, but some of us are...
Congratulations to the happy couple!